321- Subject: Condolence

, 7/4/1998.

XXXXXXXXXXX wrote: Last night Pam's mother-in-law past away. She and her husband, have suffered a great loss. Pam unsubscribed from internaf to take a break so please email her privatly, if you wish, at ---------@inforamp.net . She's always giving others support, now she and Dave need it.

XXXXXXXXXXX escribió: La pasada noche se fue la suegra de Pam. Ella y su marido, han sufrido una gran pérdida. Pam está unsubscrita de internaf para tomar un descanso, su email privado, si usted lo desea, es -------@inforamp.net. Siempre está dando apoyo a los demás, ahora, ella y Dave lo necesitan.

Pam and Dave: At this time difficult for your mother's loss, I should express you my support with a brief words of condolence. Above beliefs or non beliefs, to take a life with dignity is. She made it. Now you will continue having the spirit of their love next to you. Hugs. (Miguel-A. and the other INTERNAFers).

Pam y Dave: En este momento difícil por la pérdida de vuestra madre, debo expresaros mi apoyo con una breves palabras de condolencia. Por encima de creencias o no creencias, está llevar una vida con dignidad. Ella lo hizo. Ahora seguiréis teniendo el espíritu de su amor junto a vosotros. Abrazos. (Miguel-A. y los demás INTERNAFers).
---

322- Subject: Re: ATAXIA INFOMATION NEEDED, 7/4/1998.

XXXXXXXXXXXXXX wrote: This may be one for one of our spanish friends to help with,

From: XXXXXXXXXXXXXXXXX wrote: Hello --------. I´m an Spanish Chemical Engineering student, and my mother suffers olivo-ponto cerebelar ataxia. I´ll be pleased if you send me some information about this them.

XXXXXXXXXXXXXXXXXX escribió: Esto puede ser para ayudar a uno de nuestros amigos españoles.

Desde: XXXXXXXXXXXXXXXXX escribió: Hola Tim. Soy un estudiante Español de Ingeniería Química, y mi madre sufre ataxia olivo-ponto cerebelar. Estaré agradecido si usted me envía un poco de información sobre esto.

Friend Sergio and other family: Allow me to speak in a faulty software English because I am carrying out an answer your message hit by Tim Spivey in INTERNAF. The original in Spanish is behind. I don't have information about the olivo-ponto cerebelar ataxia, but here in INTERNAF you can find people that suffer that ataxia class. Them and all the ataxianss, we will share support and experiences with you. I invite you to unite to the international forum INTERNAF. If you have interest in it, you writes to my E-mail, and I will give you the instructions in Spanish. (Miguel-A.., a Spanish of the county of Burgos).

Amigo Sergio y demás familia: Permíteme hablar en un deficiente Inglés de software porque estoy realizando una contestación un mensaje tuyo pegado por Tim Spivey en INTERNAF. El original en Español está detrás. No dispongo de información acerca de la ataxia olivo-ponto cerebelar, pero aquí en INTERNAF puedes hallar personas que padezcan esa clase de ataxia. Ellas y todos los pacientes de ataxia, compartiremos apoyo y experiencias con vosotros. Te invito a unirte a al foro internacional INTERNAF. Si tienes interés en ello, escribe a mi E-mail, y te daré las instrucciones en Español. (Miguel-A., un Español de la provincia de Burgos).
---

323- Subject: Re: [internaf] Internaf: Our Introduction, 14/4/1998.

XXXXXXXXXXXXXXX wrote: Hi, my name is -------- and my husband is -------. We live in Victoria, B. C., Canada and have four children: Felicia (9), Robbie (7), Victoria (5) and Alexandria (3). Robbie was diagnosed with FA in January ..... I am very excited about having contact with people who are able to understand what we are experiencing and that will be able to provide us with information and support.

-------------- escribió: Hola, mi nombre es --------- y mi marido es -----------. Vivimos en Victoria, B. C., Canadá y tenemos cuatro niños: Felicia (9), Robbie (7), Victoria (5) y Alejandría (3). Robbie fue diagnosticada con Ataxia de Friedreich, en enero..... Estoy muy entusiasmada por tener contacto con personas que pueden entender nuestra experiencia y que podrá proporcionarnos información y apoyo.

Dear --------: Welcome to INTERNAF!. As patient of FA, I have a feeling of solidarity with all those affected. However, my feeling rises to the infinite when the sick person is a boy. I inform you that a sub-list that works for Internet exists [as INTERNAF] for parents of FAers. There you will be able to find people with the same experiences that you. For more information you can contact Mrs. -------- in the E-mail: ----------@webaccess.net . If you speak French, ----------- is in Switzerland, she has two daughters with FA [9 and 11 years]. E-mail: -------------@bluewin.ch A hug... and a kiss of solidarity for Robbie.

Estimada ------------: ¡Bienvenida a INTRERNAF!. Como paciente de FA, tengo un sentimiento de solidaridad con todos los afectados. Sin embargo, mi sentimiento se eleva al infinito cuando el enfermo es un niño. Te informo que existe una sub-lista que funciona por Internet [como INTERNAF] para padres de pacientes de Ataxia de Friedreich. Allí podrás hallar personas con las mismas experiencias que tú. Para más información puedes ponerte en contacto con la Señora ------------- en el E-mail: -----------@webaccess.net . Si hablas Francés, en Suiza está -------------, ella tiene dos hijas con Ataxia de Friedreich [9 y 11 años]. E-mail: ----------@bluewin.ch . Un abrazo... y un beso de solidaridad para Robbie.
---

324- Subject: Re: [internaf] rememberig, 17/4/1998.

XXXXXXXXXXXXX wrote: Hi evervody: I'd like sent an old letter tjat I've found in the hard disk. It shows a fight that nowadays I think very interesting for the actual researches. In 1983 we travel to Milan (Italy), ..... Another day more things. Hugs. .....

XXXXXXXXXXX escribió. Hola a todos: Me gustaría enviar una copia de una vieja carta que he encontrado en el disco duro. Muestra una historia que pienso es muy interesante para las investigaciones actuales. En 1983 nosotros viajamos a Milan (Italia),..... Otro día más cosas. Abrazos. ...

Friend ------------: ¡Welcome to INTERNAF!. You have not paid me attention: instead of making a simple introduction so that the INTERNAFers knows you, you have entered here almost as Attila's horse. You should have carried out a simple introduction and to have left your letter for a later day. I won't present you, I won't take off that honor. You know well how to make it.

INTERNAFers: ---------- is good my friend, for that reason I joke with him. But I have said that I should not introduce it. I will speak of ------------. Cristina is sister of Vicente, and also FAer. She is the most beautiful girl in Spain. Rawnie... I have only said of Spain ;-) . I will put a sign of " STOP " for Miguelito and for Shawn ;-) . Cristina is very in love of her boyfriend, German.
Hugs for all, included Vicente, Cristina, German, Rawnie, Miguelito, and Shawn.

Amigo -------------: ¡Bienvenido a INTERNAF!. No me has hecho caso: en lugar de hacer una introducción sencilla para que los INTERNAFers te conozcamos, has entrado aquí casi como el caballo de Atila. Debieras haber realizado un introducción simple y haber dejado tu carta para un día posterior. No te presentaré, no voy a quitarte ese honor. Tú sabes bien cómo hacerlo.

INTERNAFers: -------------- es buen amigo mío, por eso bromeo con él. Pero he dicho que no debo introducirlo. Hablaré de Cristina. Cristina es hermana de Vicente, y también paciente de Ataxia de Friedreich. Ella es la chica más hermosa de España. Rawnie... solamente he dicho de España ;-) . Pondré una señal de "STOP" para Miguelito y para Shawn ;-) . Cristina está muy enamorada de su novio, Germán.
Abrazos para todos, incluidos Vicente, Cristina, Germán, Rawnie, Miguelito, y Shawn.
---

325- Subject: Re: [internaf] what is a friend, 17/4/1998.

XXXXXXXXXXXXXXx wrote: I just want to thank ya'll for being my friends and being here when Y need a friend.

XXXXXXXXXXXXX wrote: A friend is a friend forever. / A friend loves unconditionally. / A friend feels your pain. / A friend knows your joy. / A friend rejoices because who you are.

XXXXXXXXXXXXXXX escribió: Solamente quiero agradecer a todos por ser mis amigos y por estar aquí cuando necesito un amigo.

XXXXXXXXXXXXXXXXX escribió: Un amigo es un amigo para siempre. / Un amigo ama incondicionalmente. / Un amigo siente tu dolor. / Un amigo sabe tu alegría. / Un amigo se alegra por lo que eres.

Friends: THOUGHTS OF FRIENDSHIP:
- * - All know how to define the friendship, but not all know how to live her.
- * - The steps of the life are easier of ascending with the mutual support of a friend.
- * - The friendship makes us happy and she makes happy to those that share it with us.
- * - The selfish person will never have friends, because the loveless life is like a flower without the water and without the sun.
- * - The friendship is built with small things and almost insignificant details.
- * - The friendship will never be able to be based on interests, then she would be a market.
- * - The true friend is the one that doesn't abandon us in the difficult moments.
- * - The person that doesn't know how to love, to understand, and to forgive, she cannot have friends.
- * - The friendship grows with the trust and the sincere dialogue.
- * - The seed of the friendship is gratuitous and its crop is immense.
- * - The friend doesn't see the poverty of the body, he sees the wealth of the heart.
- * - The eyes of the love transform everything and they transform it into poetry.
- * - To the one that has friends, the solitude will never conquer him.
- * - The friendship is to cultivate it every day.
- * - The friendship is as a spring that he offers pure water to satiate our thirst of coexistence.

Amigos: PENSAMIENTOS DE AMISTAD
-*- Todos saben definir la amistad, pero no todos saben vivirla.
-*- Los escalones de la vida son más fáciles de subir con el mutuo apoyo de un amigo.
-*- La amistad nos hace felices y hace felices a los que la comparten con nosotros.
-*- La persona egoísta nunca tendrá amigos, porque la vida sin amor es como una flor sin el agua y sin el sol.
-*- La amistad se construye con pequeñas cosas y detalles casi insignificantes.
-*- La amistad nunca podrá estar basada en intereses, entonces sería un mercado.
-*- El verdadero amigo es el que no nos abandona en los momentos difíciles.
-*- La persona que no sabe amar, comprender, y perdonar, no puede tener amigos.
-*- La amistad crece con la confianza y el diálogo sincero.
-*- La semilla de la amistad es gratuita y su cosecha es inmensa.
-*- El amigo no ve la pobreza del cuerpo, sino la riqueza del corazón.
-*- Los ojos del amor transforman todo y lo convierten en poesía.
-*- A el que tiene amigos, la soledad nunca le vencerá.
-*- La amistad hay que cultivarla cada día.
-*- La amistad es como un manantial que ofrece agua pura para saciar nuestra sed de convivencia
---

326- Subject: Re: [internaf] THE MOTHER SPECIAL, 18/4/1998.

XXXXXXXXXXXX wrote: Special mother (Erma Bombeck).

Dear -------------: Erma Bombeck's text is very beautiful. Thank you. In Spanish the text sounds to celestial music with humanity's gleams. I ignore in what degree they will be able to understand it the English-speaking INTERNAFers. Our softwares of translation carry out too many mischiefs. But be not discouraged: each one makes what we can.

Estimado ----------: El texto de "Erma Bombeck" es muy hermoso. Gracias. En Español el texto suena a música celestial con destellos de humanidad. Ignoro en qué grado podrán entenderlo los INTERNAFers angloparlantes. Nuestros softwares de traducción realizan demasiadas travesuras. Pero no te desanimes: cada uno hacemos lo que podemos.
---

327- Subject: Re: [internaf] Presentation, again, 19/4/1998.

XXXXXXXXXXXXXXXXXX wrote: Hello! I´m Cristina, I´m FAer too..... But I play theatre and I´m an actress..... My boyfriend was born in Canarias. He lives in Valencia, to 150 miles from Zaragoza but love hasn´t distancces. We usually travel very much. I like children and cats. I´m Sagittarius and I like to laugh nut I also am a cry-baby. I love animals.I speak French.

XXXXXXXXXXXXXX escribió: ¡Hola! Soy Cristina. También soy paciente de Ataxia de Friedreich ..... Pero he hecho teatro y soy actriz..... Tengo un novio que nació en Canarias. Él vive en Valencia, a 150 millas de Zargoza, pero el amor no tiene distancias. Viajamos mucho Me gustan los niños y los gatos. Soy Sagitario y me gusta reír, aunque también soy una llorona. Amo a los animales. Hablo Francés.

Friends INTERNAFers: I can confirm that all that Cristina has said is true. But I keep a doubt regarding that she speaks French. Will that mean that, as me, she translate amateurishly and with numerous incorrectness the French language?. Huuum!. I will dream tonight that Molière will run behind us two with a threatening stick. Cristina, the speed of my wheelchair is very small: -D. " Je rêverai ce soir ce Molière courra derrière nous avec un bâton menaçant. Cristina, la vitesse de mon siège de roues est très petite :-D .".

Amigos INTERNAFers: Puedo confirmar que todo lo que Cristina ha dicho es verdad. Pero guardo una duda respecto a que hable Francés. ¿Eso significará que, como yo, traduce chapuceramente y con numerosas incorrecciones el idioma Francés?. ¡Huuum!. Yo soñaré esta noche que Molière correrá detrás de nosotros dos con un palo amenazante. Cristina, la velocidad de mi silla de ruedas es muy pequeña :-D . " Je rêverai ce soir ce Molière courra derrière nous avec un bâton menaçant. Cristina, la vitesse de mon fauteil roulant est très petite" :-D
---

328- Subject: Re: [internaf] meditation for peace, 20/4/1998.

XXXXXXXXXXXXXX wrote ... Next Thursday,April 23rd,there's going to be a world wide meditation for world peace.

XXXXXXXXXXXX escribió: ... El próximo jueves, 23 de abril, va a haber una meditación amplia para paz mundial.

Friends: "The absence of the war is not peace: the peace is inseparable sister of the justice and of the love".

Amigos: "La ausencia de la guerra no es paz: la paz es hermana inseparable de la justicia y del amor".
---

329- Subject: I apologice openly, 20/4/1998.

XXXXXXXXXXXXXXXXXXXX wrote: .... J'espere que tu as bien compris ce message et j'attends impatiemment de voir une lettre d'excuses de ta part sur Internaf.

XXXXXXXXXXXXXx escribió: ..... Espero que hayas comprendido este mensaje y espero impacientemente ver una carta de excusas de tu parte en Internaf.

Cristina, Vicente, Kathy, friends INTERNAFers: I don't find necessity to request excuses openly, but here all know me and they know that I don't have inconveniences in requesting excuses. Kathy asks me me to make it... I ASK FOR FORGIVENESS. I am totally surprised. I don't understand like a small joke can end up almost in world war: In the first letter I noticed that Vicente was a good my friend and for that reason he joked with him. This doesn't have relationship with "the beauty", "the sexism", "the culture absence", or the comparison "beauty - to be silly". Cristina and me, we have had and we continue having written correspondence and phone conversations during two and a half years... I have even been at home of Cristina. She knows that I am a gentleman. Here my intention was totally positive. I have tried to wrap up Cristina and Vicente so that they didn't feel strange in INTERNAF. My polemic sentences went accompanied by signs that indicated joke [ ;-) and :-D ] and until I involved in this to Rawnie, Miguelito, Shawn and Germán.
I apologize... I don't understand... And I sit down as a fool whose good intention has been interpreted to the you review.

Cristina, Vicente, Kathy, amigos INTERNAFers: No hallo necesidad de pedir excusas públicamente, pero aquí todos me conocen y saben que no tengo inconvenientes en pedir excusas. Kathy me pide que lo haga... PIDO PERDÓN. Estoy completamente sorprendido. No comprendo como una pequeña broma puede acabar casi en guerra mundial: En la primera carta advertí que Vicente era un buen amigo mío y por eso bromeaba con él. Esto no tiene relación con "la belleza", "el sexismo", "la ausencia de cultura", o la comparación "belleza - ser tonto". Cristina y yo, hemos tenido y continuamos teniendo correspondencia escrita y conversaciones telefónicas durante dos años y medio... incluso he estado en casa de Cristina. Ella sabe que soy un caballero. Aquí mi intención era completamente positiva. He intentado arropar a Cristina y a Vicente para que no se sintieran extraños en INTERNAF. Mis polémicas frases iban acompañadas de signos que indicaban broma [ ;-) y :-D ] y hasta involucré en esto a Rawnie, Miguelito, Shawn y Germán.
Pido disculpas... No entiendo... Y me siento como un tonto cuya buena intención ha sido interpretada al revés.
---

330- Subject: Re: [internaf] Excuses demandees - I apologize again, 21/4/1998.

XXXXXXXXXXXXXXXXX wrote: ... Si je voulais, je pourrais dire la meme chose de toi, mais je trouve qu'il est tout a fait inutile de denigrer qui que ce soit.

XXXXXXXXXXXXXX escribió: ... Si quisiera, podría decir la misma cosa de ti, pero encuentro que es del todo inútil reprochar lo que sea.

Dear ------------: Personally, I find very not very ethical to take advantage of this circumstance to remember in public a happened fact months ago. Y apologized, you accepted them, and this have been erase of your memory... and stiller, when we have maintained a cordial relationships after that fact. I apologize and I will explain to it, because all my sin was to be good and to behave as a gentleman. But those things seem crimes in the doors of the third millennium.
I thought that other members of the forum made ironies with your declarations, and I went out in your defense with the bad luck of the translation and of meeting with an archaic feminism. For me, we are people above being men and women. As people we have the same rights and the same dignity, but we have a different psychology. There is the greatness of the married love: Two beings that are supplemented mutually. To reduce the relationship to the sex and the conservation of the species, I find an atrocity and to reduce the human being to the category of any animal. Yes, the woman is usually more talkative than the man, but also more cheerful, more loving, more understanding, more open of feelings, more constant, more self-denying, etc. is not defects neither virtues, they are questions that are supplemented with the other sex.
Kathy, you can be in disagreement with my theories, but you cannot doubt from my equitable treatment to the women after having listened to me during 14 months. I made a homage to the mothers, I shared the pain with Suzane, I eulogized the mother of Jamey, I spoke with the heart to the Portuguese Raquel, I defended Lisa, I have spoken of love and of friendship, I have entered in all the conflicts of other members of INTERNAF to request peace without caring me if they were men or women. You what you want of me?. I apologize again. A hug. (a INTERNAFer that is not understood).

Estimada -------: Personalmente, me parece muy poco ético aprovechar esta circunstancia para recordar en público un hecho ocurrido hace meses. Yo pedí disculpas, tú las aceptaste, y esto debiera haber quedado borrado de tu memoria... y más aún, cuando hemos mantenido una relaciones cordiales después de aquel hecho. Pido disculpas y lo explicaré, porque todo mi pecado fue ser bueno y comportarme como un caballero. Pero esas cosas parecen delitos en las puertas del tercer milenio.
Pensé que otros miembros del foro hacían ironías con unas declaraciones tuyas, y salí en tu defensa con la mala suerte de la traducción y de encontrarme con un feminismo arcaico. Para mí, somos personas por encima de ser hombres y mujeres. Como personas tenemos los mismos derechos y la misma dignidad, pero tenemos una psicología distinta. Ahí está la grandeza del amor conyugal: Dos seres que se complementan mutuamente. Reducir la relación al sexo y a la conservación de la especie, me parece una barbaridad y rebajar al ser humano a la categoría de cualquier animal. Sí, la mujer suele ser más habladora que el hombre, pero también más alegre, más amorosa, más comprensiva, más abierta de sentimientos, más constante, más abnegada, etc. No son defectos ni virtudes, son cuestiones que se complementan con el otro sexo.
Kathy, puedes estar en desacuerdo con mis teorías, pero NO puedes dudar de mi trato igualitario a las mujeres después de haberme escuchado durante 14 meses. Yo hice un homenaje a las madres, compartí el dolor con Suzane, elogié a la madre de Jamey, hablé con el corazón a la Portuguesa Raquel, defendí a Lisa, he hablado de amor y de amistad, me he metido en todos los conflictos de otros miembros de INTERNAF a pedir paz sin importarme si eran hombres o mujeres. ¿Tú qué quieres de mí?. Pido disculpas de nuevo. Un abrazo. (un INTERNAFer que no se siente comprendido).
---

331- Subject: Re: [internaf] Excuses accepted, 22/4/1998.

-------: If I have apologized... and you have also apologized... Accepted... the problem no longer exists. A hug...

-----------: Si yo he pedido disculpas... y tú también has pedido disculpas... Aceptadas... el problema ya no existe. Un abrazo...
---

332- Subject: Re: [internaf] I Have Learned...., 23/4/1998.

PATRISHA SMITH wrote:
I've learned that regardless of how hot
and steamy a relationship is at first,
the passion fades and there had better
be something else to take its place.
I've learned that heroes are the people
who do what has to be done when it
needs to be done, regardless of the
consequences.....

Traducción de software:
He aprendido a no tener en cuenta lo caliente
y humeante es una relación en un principio:
la pasión se marchita y será mejor
tener algo más para poner en su lugar.
He aprendido que los héroes son personas
que hacen lo que tienen que hacer cuando hay
necesidad de hacerlo, sin tener en cuenta las
consecuencias....
---

333- Subject: Re: Translation of [internaf] aceptao, 23/4/1998.

XXXXXXXXXX wrote: Here is a translation of Cristina's last email. Thanks to Antonio, we know now what she said!! :-) :

.... Miguel Angel, now I am me who it feels bad because you are bad because you put the paw unintentionally although you believe that you didn't put it... so we do already forget it? Kisses.

XXXXXXXXXXXXXX escribió: He ahí una traducción del último e-mail de Cristina. Gracias a Antonio, ¡¡ahora sabemos lo que ella dijo!! :-) :
..... Miguel Ángel, ahora soy yo quién se siente mal porque usted está apenado porque metió la pata involuntariamente aunque cree que no la metió... ¿Por qué ya no nos olvidamos de ello? Besos.

Friends INTERNAFers: I continue very surprised by the importance that this matter has acquired until arriving to the Department of Translations. For it, another time, I am forced to write in public some words of acceptance, although yesterday I already made privately it. Problem has never existed between Cristina and me. There have only been some ghosts in form of bad interpretations for not understanding her that I joked. With permission of Germán [the boyfriend of her], I return Cristina those kisses with those that she gives me. Hugs for the other ones.

Amigos INTERNAFers: Sigo muy sorprendido por la importancia que este asunto ha adquirido hasta llegar al Departamento de Traducciones. Por ello, otra vez, estoy obligado a escribir en público unas palabras de aceptación, aunque ayer ya lo hice privadamente. Nunca ha existido problema entre Cristina y yo. Solamente ha habido algunos fantasmas en forma de malas interpretaciones por no comprender ella que yo bromeaba. Con permiso de Germán [su novio], devuelvo a Cristina esos besos con los que ella me obsequia. Abrazos para los demás.
---

334- Subject: Re: [internaf] Re: Independent Living, 24/4/1998.

XXXXXXXXXXXXX wrote: ... I always feel guilty these days about having been too dependent on my parents. ..... But I sometimes wonder if my brother appreciates that when he was taking his Phd at Cambridge, was captain of the rowing club, and becoming engaged to his wife, I was having to come to terms with a wheelchair and with my FA. ... So I'm sure there are a great many others who have very similar stories.

XXXXXXXXXXXXX escribió: ... Estos días me siento culpable de haber sido demasiado dependiente de mis padres. .... Pero a veces me pregunto si mi hermano aprecia que mientras él estaba estudiando su Phd en Cambridge, era capitán del club de remo, y estaba comprometiéndose con su esposa, yo estaba con una silla de ruedas y con mi Ataxia de Friedreich. .... Por ello, estoy seguro que hay muchos otros que tienen historias muy similares.

Dear ------------: As you say, those same feelings are common to numerous FAers. But they are not realities, they are perceptions of our susceptibility of sick. And we really feel a nonexistent guilt. Guilt of what?: It is only guilty of that carried out with bad intention. Our humanity takes us to carry out comparisons. It is impossible and useless, because as you say, we don't leave of the same conditions. It would be an ideal to guess right to have a positive look to see our achievements and to ignore our deficiencies. You could find a victorious Peter in spite of the difficulties of their FA. But in fact it appears our human condition, and we are a fight of positive and negative feelings. This is not white neither it is black, it is a fight. Some days exist where I think that the negative feelings have conquered me...

Estimado -----------: Como dices, esos mismos sentimientos son comunes a numerosos pacientes de Ataxia de Friedreich. Pero no son realidades, son percepciones de nuestra susceptibilidad de enfermos. Y realmente sentimos una culpabilidad inexistente. ¿Culpabilidad de qué?: Solamente se es culpable de lo realizado con mala intención. Nuestra humanidad nos lleva a realizar comparaciones. Es imposible e inútil, pues como dices, no partimos de las mismas condiciones. Sería un ideal acertar a tener una mirada positiva para ver nuestros logros e ignorar nuestras deficiencias. Podrías encontrar un Peter victorioso a pesar de las dificultades de su FA. Pero en realidad asoma nuestra condición humana, y somos una lucha de sentimientos positivos y negativos. Esto no es blanco ni es negro, es una lucha. Existen algunos días donde pienso que los sentimientos negativos me han vencido...
---

335- Subject: Re: [internaf] Giving up translation coordination of Internaf 25/4/1998.

XXXXXXXXXXXXXXX wrote: .... I have much more important things to do with my time than translating stuff for unappreciative and bitter people who can't appreciate the efforts of others. You dont see it, but I have been translating private emails that people keep sending me privately, or forwading them to those who can, without having these emails on the list. If that is all you have to say about my job Miguel, I suggest that you do it instead of me.
Please, other board members, take me off that board. If anyone of you wants to reply to this email, you will have to do it privately because I am unsubscribing from Internaf, I have had enough. I think that I will be more than satisfyied to just get the medical news. Unfortunately, you will have to find someone else to translate these news for you.

XXXXXXXXXXXX escribió: .... Tengo cosas mucho más importantes que hacer con mi tiempo que traducir material para personas ingratas y amargas que no pueden apreciar los esfuerzos de otros. Ustedes no lo ven, pero he estado traduciendo e-mails privados a las personas que siguen enviándome privadamente, o copias de ellos a aquéllos que pueden, sin tener estos e-mails en la lista. Si eso es todo lo que usted tiene que decir sobre mi trabajo Miguel, sugiero que usted lo haga en mi lugar.
Por favor, otros miembros de la lista, supóngamme fuera de esa lista. Si cualquiera de ustedes quiere contestar a este e-mail, tendrá que hacerlo privadamente porque me he borrado de Internaf, he tenido suficiente. Pienso que estaré más satisfecha de conseguir solamente las noticias médicas. Desgraciadamente, ustedes tendrán que encontrar a alguien más para traducir esas noticias para ustedes.

Dear --------: I cannot respond to your E-mail, because I have NEVER criticized your work in the Department of Translations. Please, it has never been my intention to criticize you neither to offend you. If you leave, I will feel vastly GUILTY. Why don't we already stop to behave ALL [me also] as crazy children?. We are mature. If you leave INTERNAF for disagreements with me, I will also be forced to leave INTERNAF. We all will lose in this called common project INTERNAF where we all give and we all receive. All the members are important. It is normal that those that more speaks, as me, let us wander more times. "Mea culpa".
I request to the other members of INTERNAF that go to Kathy's mailbox to request it that doesn't abandon us. Kathy, a kiss... and a tear to cause this...
PS: Pam, I will admit a fight if I need it, but don't let Kathy to leave INTERNAF.

Estimada -------------: No puedo responder a tu E-mail, porque JAMÁS he criticado tu trabajo en el Departamento de Traducciones. Por favor, nunca ha sido mi intención criticarte ni ofenderte. Si tú te vas, yo me sentiré inmensamente CULPABLE. ¿Por qué no dejamos ya de comportarnos TODOS [yo también] como niños locos?. Somos adultos. Si tú te vas de INTERNAF por desacuerdos conmigo, yo también estaré obligado a irme de INTERNAF. Todos perderemos en este proyecto común llamado INTERNAF donde todos damos y todos recibimos. Todos los miembros somos importantes. Es normal que los que más hablamos, como yo, erremos más veces. "Mea culpa".
Pido a los otros miembros de INTERNAF que acudan al buzón de Kathy para pedirla que no nos abandone. Kathy, un beso... y una lágrima por provocar esto...
PS: Pam, admitiré una bronca si la necesito, pero no dejes que Kathy se vaya de INTERNAF.
---

336- Subject: Re: [internaf] I am back, 28/4/1998.

XXXXXXXXXXXXXX wrote: I was overwhelmed by all of your response to my resignation of the Internaf Translation Coordination. Your words really touched my heart and I realize what a wonderful group of people you all are, and that it would not be fair to let you guys down. ....

Kathy Dufour escribió: He sido agobiada por todas sus contestaciones a mi dimisión de la Coordinación de Traducciones de Internaf. Realmente sus palabras tocaron mi corazón y comprendo que éste es un grupo maravilloso de personas, todos ustedes lo son, y no sería justo decepcionarlos. .....

Dear ----------: The differences never have importance if our desires of peace and of harmony among us, they are stronger than our discussions. Happy matrimonial union!. What day?. A kiss... if Ross is not jealous ;-) .

Estimada -----------: Las diferencias nunca tienen importancia si nuestros deseos de paz y de armonía entre nosotros, son más fuertes que nuestras discusiones. ¡Feliz unión matrimonial!. ¿Qué día?. Un beso... si Ross no es celoso ;-) .
---

337- Subject: Re: [internaf] bye, 29/4/1998.

XXXXXXXXXXXx wrote:UNSUSCRIBE INTERNAF

Dear------: I will respond you in public and in private so that you are aware that I also defend you before INTERNAF. Don't make the foolishness of the "unsuscribe". Before Kathy made it, and she has rectified. I also thought it, but I didn't make it. Vicente, this is a war that has arisen of a littleness. A ball of snow that it grows and it grows as she goes rotating. Or we behave as ferocious military that they need to cut heads, or children that catch an infantile anger eat.
We all have made a mistake and we will continue making a mistake, because we are human. But the errors lack importance. The important thing is to have a desire of peace with the other ones. Kathy is FAer, I am FAer, you are FAer, we all are illness siblings. And the force of that relationship should be stronger than those small differences.
Vicente, you are ataxian and also psychologist and you know perfectly that we are subjected imperfect human beings to the pressure of the illness. Our errors lack importance. None of us wants you to leave of INTERNAF. On the contrary, your abandonment will be a wound of shame for all us: it will be like an accusation of not having known how to welcome you in INTERNAF. Your abandonment harms to yourself and he harms us to the INTERNAFers. It is not but beautiful the friendship?.
Please INTERNAFers, send private messages to -------------@correo.cop.es> to request him that INTERNAF doesn't abandon.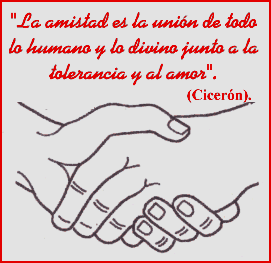 Estimado ---------: Te responderé en público y en privado para que seas consciente de que también te defiendo ante INTERNAF. No cometas la tontería del "unsuscribe". Antes Kathy lo hizo, y ha rectificado. Yo también lo pensé, pero no lo hice. Vicente, esto es una guerra que ha surgido de una pequeñez. Una bola de nieve que crece y crece a medida que va rodando. O nos comportamos como feroces militares que necesitan cortar cabezas, o como niños que cogen un enfado infantil.
Todos nos hemos equivocado y nos seguiremos equivocando, porque somos humanos. Pero los errores carecen de importancia. Lo importante es tener un deseo de paz con los demás. Kathy es paciente de Ataxia de Friedreich, tú y yo, también lo somo, todos somos hermanos de enfermedad. Y la fuerza de esa relación debe ser más fuerte que esas pequeñas diferencias.
Vicente, tú eres paciente de ataxia, y, además, psicólogo, y sabes perfectamente que somos seres humanos imperfectos sometidos a la presión de la enfermedad. Nuestros errores carecen de importancia. Ninguno de nosotros desea que tú te marches de INTERNAF. Al contrario, tu abandono será un herida de vergüenza para todos nosotros: será como una acusación de no haber sabido acogerte en INTERNAF. Tu abandono te hace daño a ti mismo y nos hace daño a los INTERNAFers. ¿No es mas hermosa la amistad?.
Por favor INTERNAFers, envíen mensajes privados a -----------@correo.cop.es para pedirle que no abandone INTERNAF.
---

338- Subject: Wisecrack / The Creation and the life, 30/4/1998.

XXXXXXXXXXXXX wrote: The Origin of Pets....

XXXXXXXXXXXXX escribió: El Origen de los Animales Domésticos .....

Friends: THE CREATION AND THE LIFE. This is a wisecrack. I request with kindness that who doesn't have interest in the wisecrack, he erase it without reading it.
In the Creation of the world it is related that God had numerous difficulties to establish the approximate time of life for each animal species. All the animals protested the decisions of God.
According to this narration, God carried out the creation of the donkey in the first place.
- You will be called donkey -God said-. You will eat grass. You will walk on four paws. You will take on your backs the load that the human beings put you. You will have big ears. Your voice will be to bray. And you will live approximately 70 years.
The donkey protested:
- 70 years I find too much time to have to work so much. I would want to live only 30 years.
- I am not demanding -God responded-. Well, 30 years for the donkeys.
Then God carried out the creation of the monkey.
- You will be called monkey -God said-. You will live in the trees and you will eat their fruits. You will jump of branch in branch and the other animal species will laugh your expressions. You will emit screechy sounds. And you will live approximately 40 years.
- Lord, -the monkey griped-, I believe that with 30 years it would be enough. 40 years are too many to live making balances for the trees.
- Is well -God responded-. As you want. 30 years for the monkeys.
Later, God carried out the creation of the dog.
- You will be called dog -God said-. You will walk on four paws. You will take care of the house of the human beings. You will live as a dog, and, you will eat what they give without protesting. Your voice will be called bark. And you will live a 25 year-old stocking.
- Lord -exposed the dog-, 25 years I find too many years to eat what they give me without being able to protest. It would be enough with 15 years.
- Well -God said-, 15 years for the dogs.
Lastly, God carried out the man's creation.
- You will be called man. You will be the most perfect being in the whole Creation and you will dominate to the rest of the animals. You will feed of everything. You will walk erect. You will be intelligent and I grant you the gift of the word. And you will live approximately 25 years.
- Lord -the man protested-, don't you find that 25 years are few?
"This animal is very strange" -God thought- it is the only of all the animals that wants to live more than what I have offered him". And God asked to the man:
- How many years do you want to live?. Will I grant them to you.
- 85 years the man -answered.
- What atrocity! -God replied-. 85 years I find too many. But you have wanted it, then don't complain. The sum comes out perfect: the 25 years that I had foreseen for you will live..., more the 40 that the donkey didn't want..., more the 10 that the monkey didn't want..., and more the other 10 years that the dog didn't want. You will live 25 years like man. Then, 40 working as a donkey to maintain to your family. Then, 10 years jumping as a monkey to have a good time to the grandsons. And later, 10 years taking the life of a dog and eating what they give you without protesting and going on pilgrimage for all the house of your sons...
* In Spanish, to work as a donkey = to work a lot and without rest. * In Spanish, to live as a dog = to have a life full with penalties.

Amigos: LA CREACIÓN Y LA VIDA . Esto es un chiste. Ruego con amabilidad que quien no tenga interés en los chistes, lo borre sin leerlo.
En la Creación del mundo se relata que Dios tuvo numerosas dificultades para establecer el tiempo aproximado de vida para cada especie animal. Todos los animales protestaban las decisiones de Dios.
Según esta narración, Dios realizó la creación del burro en primer lugar.
- Tú serás llamado burro -dijo Dios-. Comerás hierba. Caminarás sobre cuatro patas. Llevarás sobre tus espaldas la carga que los seres humanos te pongan. Tendrás grandes orejas. Tu voz será rebuznar. Y vivirás aproximadamente 70 años.
El burro protestó:
- 70 años me parece demasiado tiempo para tener que trabajar tanto. Yo desearía vivir solamente 30 años.
- Yo no soy exigente -respondió Dios-. Bien, 30 años para los burros.
Después Dios realizó la creación del mono.
- Tú serás llamado mono -dijo Dios-. Vivirás en los árboles y comerás sus frutos. Saltarás de rama en rama y las otras especies animales reirán tus gestos. Emitirás sonidos chillones. Y vivirás aproximadamente 40 años.
- Señor -refunfuñó el mono-, creo que con 30 años sería suficiente. 40 años son demasiados para vivir haciendo equilibrios por los árboles.
- Está bien -respondió Dios-. Como tú quieras. 30 años para los monos.
Más tarde, Dios realizó la creación del perro.
- Tú serás llamado perro -dijo Dios-. Caminarás sobre cuatro patas. Cuidarás de la casa de los seres humanos. Vivirás como un perro, y, comerás lo que den sin protestar. Tu voz será llamada ladrido. Y vivirás una media de 25 años.
- Señor -expuso el perro-, 25 años me parecen demasiados años para comer lo que me den sin poder protestar. Sería suficiente con 15 años.
- Bien -Dios dijo-, 15 años para los perros.
Por último, Dios realizó la creación del hombre.
- Tú serás llamado hombre. Serás el ser más perfecto de toda la Creación y dominarás al resto de los animales. Te alimentarás de todo. Caminarás erguido. Serás inteligente y te concedo el don de la palabra. Y vivirás aproximadamente 25 años.
- Señor -protestó el hombre-, ¿no te parece que 25 años son pocos?
"Este animal es muy raro"-pensó Dios- "Es el único de todos los animales que desea vivir más de lo que le he ofrecido". Y Dios preguntó al hombre:
- ¿Cuántos años deseas vivir?. YO te los concederé.
- 85 años -contestó el hombre.
- ¡Qué barbaridad! -replicó Dios-. 85 años me parecen demasiados. Pero tú lo has querido, luego no te quejes. La suma sale perfecta: vivirás los 25 años que había previsto para ti ..., más los 40 que no quiso el burro..., más los 10 que no quiso el mono..., y más los otros 10 años que no quiso el perro. Vivirás 25 años como hombre. Después, 40 trabajando como un burro para mantener a tu familia. Luego, 10 años saltando como un mono para divertir a los nietos. Y más tarde, 10 años llevando la vida de un perro y comiendo lo que te den sin protestar y peregrinando por todas las casa de tus hijos...
* En Español, trabajar como un burro = trabajar mucho y sin descanso. * En Español, vivir como un perro = tener una vida llena de penalidades.
---

339- Subject: Re: [internaf] support, 2/5/1998.

XXXXXXXXXXX wrote: My husband, Eric, is 49 and has had OPCA symptoms for the past 6 years. ..... If some of you folks can spare the time or the energy, could you send some personal messages to him at our address?

XXXXXXXXXXXXXXX escribió: Mi esposo, Eric, tiene 49 años y ha tenido síntomas de OPCA durante los últimos 6 años. ..... Si algunos de ustedes pueden gastar tiempo o energía, ¿podrían enviarle usted algunos mensajes personales a nuestra dirección? .....

Dear friend: To write some support words with credibility is not easy. I am ataxian, as you, and I sometimes think that everything is failing me. As I want to write but I don't have words, I will send you some verses that a INTERNAFer hit ago three days and I have translated to Spanish for the INTERNAFers Hispanic speakers. The failure is possibly the on success of the setback and the silver color of the clouds is a black doubt in form of optic illusion. However, it is certain that we should oppose a bigger fight degree to the adversity.

When things go wrong,
as they sometimes will,
When the road you're trudging
seems all uphill,
When the funds are low,
and the debts are high,
And you want to smile,
but you have to sigh,
When care is pressing
you down a bit,
Rest if you must,
but don't you quit.
Success is failure
turned inside out,
The silver tint of
the clouds of doubt,
And you never can tell
how close you are,
It may be near
when it seems afar.
So stick to the fight
when you're hardest hit -
It's when things go wrong,
that you mustn't quit.
( "S & H Kowitch").

Estimado amigo: Escribir unas palabras de apoyo con credibilidad no es fácil. Soy atáxico, como tú, y a veces pienso que todo me está fallando. Como quiero escribir pero no tengo palabras, te enviaré unos versos que un INTERNAFer pegó hace tres días y he traducido al Español para los INTERNAFers Hispano-parlantes. Posiblemente el fracaso es el éxito puesto del revés y el color plateado de las nubes es una duda negra en forma de ilusión óptica. Sin embargo, es cierto que debemos oponer un mayor grado de lucha a la adversidad:

Cuando las cosas salen mal,
cuando no salen como se quiere,
cuando el camino por donde camina
sólo parece ascendente.
Cuando los fondos son bajos,
y las deudas altas,
cuando quiere sonreír,
pero tiene que suspirar.
Cuando las preocupaciones aprietan
y se viene abajo,
se debe descansar,
pero no debe abandonar.
El éxito es el fracaso
vuelto del revés,
el color plateado de las nubes
está lleno de duda,
Y nunca se puede decir
lo acabado que se está.
Puede estar el final cercano
cuando parece estar lejos.
Así que escoja la lucha
cuando necesita golpear con dureza.
Cuando las cosas salen mal,
es cuando no se debe abandonar.
("S & H Kowitch").
---

340- Subject: Happy mother's day !!!, 3/5/1998.
INTERNAFers: In Spain, on first Sunday of the month of May is the mother's day. I know that this date is different for each country. That lacks importance, because the feelings don't have date. Here there are many mothers with special feelings: mothers ataxians that give their love in spite of their ataxia, and mothers that suffer infinitely the ataxia of their sons. For all the mothers of INTERNAF I will send a verses of the Spanish poet José Gonzalo Elizalde: " My mother!, if I get lost / look for me in your heart: / he gave beats to mine, / and in him we are you and me."
INTERNAFers: En España, el primer domingo del mes de mayo es el día de la madre. Sé que esta fecha es distinta para cada país. Eso carece de importancia, porque los sentimientos no tienen fecha. Aquí hay muchas madres con sentimientos especiales: madres atáxicas que dan su amor a pesar de su ataxia, y madres que sufren infinitamente la ataxia de sus hijos. Para todas las madres de INTERNAF enviaré los versos del poeta Español José Gonzalo Elizalde. "¡Madre mía!, si me pierdo / búscame en tu corazón: / él dio latidos al mío, / y en él estamos tú y yo."
---
Volver a la página de 450 mensajes a Internaf.